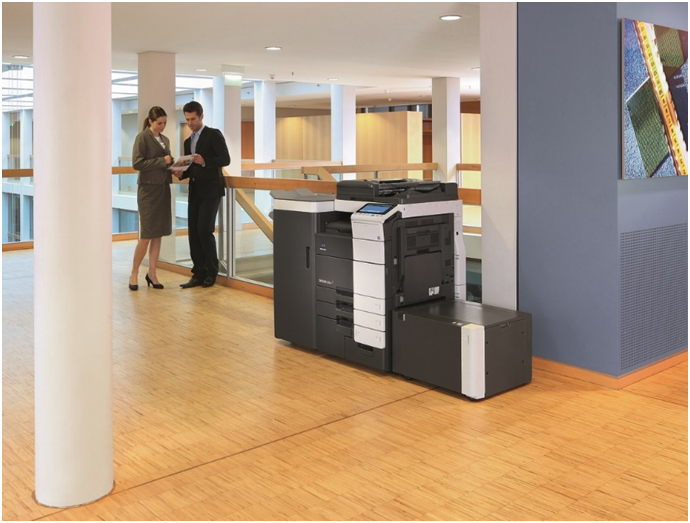 4 Questions to Answer before Choosing A Printer Or Scanner
Although it is true that technological advancements have made it easier for employees and customers to communicate digitally, the need for printed documentation, contracts, marketing materials and more has not been eliminated. That is why it is more important than ever to make the right decision when choosing a printer or scanner for your business.
When it comes to choosing a printer or scanner/copier, or multifunction device for your office, there are a wide variety of options. However, no two offices have the same requirements for these machines. In order to define your office's requirements, and ensure that you select the machine best suited to the operation of your company, there are a few important questions to answer first.
How Many Employees Need Copier/Printer Access?
We have found that it is common to under- or over-estimate your employees' printing requirements. In order to prevent both scenarios, your first step is to determine how many employees in your office need access to the printer and copier on a daily basis. As an example, some smaller businesses may not need a high-volume multifunction copier if it doesn't require heavy usage by numerous employees on a daily basis. On the other hand, a desktop printer may not be sufficient or cost effective to meet the entire office's printing needs.
What Primary Functions does Your Office Require?
Multifunction devices are a great addition to most offices because they combine print, copy, scan, fax and finishing capabilities in one machine. A multifunction device can cut down on maintenance and supply costs, compared to operating separate machines for all of these requirements. However, if your business never uses fax as a form of a communication and rarely, if ever, scan documents, you don't need to spend money on a multifunction printer that provides these capabilities.
Do You Require Mobile Printing Capabilities?
The advance of mobile technology in the last five years has enabled employees to not only access documents on the go, from mobile devices, but even send projects to their printers from those devices. If your employees require this kind of flexibility, you'll need to select an office copier printer with a reliable, easy-to-use wireless interface. You'll need copiers and printers in your office that support cloud printing technologies, like Google's Cloud Print and Apple AirPrint.
AirPrint enables mobile printing to any AirPrint enabled printer connected to the same Wi-Fi network as the mobile iOS device you wish to print from. If you don't have an AirPrint enabled printer available there are some third party applications, such as FingerPrint and Printopia, which can be used to bridge the gap.
Google Cloud Print works with all printers, but receives best results with Cloud Ready printers. The trick with this alternative is that the printer must be connected to an active Google account, configured through Google Chrome and the mobile device must support Google Apps.
Do You Want to Track Usage?
Software programs are available to help companies save money by monitoring and tracking operations on a multifunction printer. If your company wants to be able to monitor and track usage, supply levels, order histories and service history on your printer, you're going to need copiers and printers capable of interacting with analytic software. Such a feature might seem secondary on your wish-list, but when you have the ability to monitor your machine's performance, you can identify problems before they happen, uncover cost saving opportunities and streamline workflow.
Why This Matters
Answering these questions when choosing a printer or scanner can mean the difference between the perfect selection the first time, or lost productivity caused by a poor investment. The right machine for your office isn't necessarily the one offering the most features or lowest price point. The right copiers and printers are the ones that fit seamlessly into the day-to-day operations in your workplace. The best way to find that machine is by answering these questions, before you start shopping.
If you are having any other trouble with choosing a printer or scanner that meets your business needs you can always contact us and we would be more than happy to help you chose the right office equipment for your business.